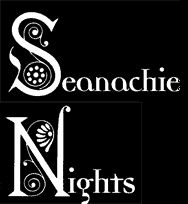 Website: www.lynnecullen.com
Telephone: 207-805-1062
Email: thetwacorbies@yahoo.com
---
Seanachie Nights, a monthly series of spoken word/musical performances from Celtic and British culture, presents Peaks Island storyteller Bill Hinderer, with stories and songs of Scotland, Ireland, and other Celtic tales.
Bill and his kilt (depending on the wind chill factor) will tell Celtic stories, including "Knockmany Hill": a fanciful 19th century Irish folktale in which Fionn Maccumhaill meets Cuchullain. In previous appearances, Bill told "The Ghost of Inverare" and "The True Story of Washington Crossing the Delaware".
The Regulars (Janet Lynch, Lynne Cullen, and Kurt Kish) will join in with traditional music on fiddle, concertina, and ukulele.